Eric Biskup became a mentor for me when I started learning to dispatch police at the Key West Police Department. He sat me down and explained that being wordy is bad, being on point is good and keeping track of what everyone is doing is critical. There was lots more advice from a veteran police officer but he got me going that night basically telling the wordy one to keep it short. Talking on the radio wasn't a problem for me, a former radio reporter, but figuring out the nuances of police work and police radio work was all new. And over those first few months in the summer of 2004, between hurricanes, he helped me learn to figure it out. One night I came to work and he showed me the best use for a police baton, moving a
snake
I had stumbled across out of the police station lobby.
Biskup was, as they used to say
sui generis
his own man and they broke the mold after they made him.
And as if to prove the point, who better to tell that story than Dennis Reeves Cooper who wrote a story in the Blue Paper in 2009 about a ride he took with Eric Biskup. Biskup has been involved in several high profile stories involving the department over the many years and Reeves Cooper was implacable in his criticism of Key West PD. Until he rode along with Biskup and wrote it up in Key West The News (KWTN) his biweekly broadsheet. Here is an excerpt :
If you are a regular reader of KWTN,
you know that we have often editorially asked this
question: "We live in a small town. Why do we have
some police officers who seem to want to arrest everybody?
Except for obvious exceptions, why can't
our cops approach most situations with the attitude
of trying NOT to arrest people?
Well, imagine my surprise when, as I watched Officer Biskup work, I heard
him saying to people more
than once, something like this:
"Okay, ladies and gentlemen,
how can we solve this problem
without anybody going
to jail?!"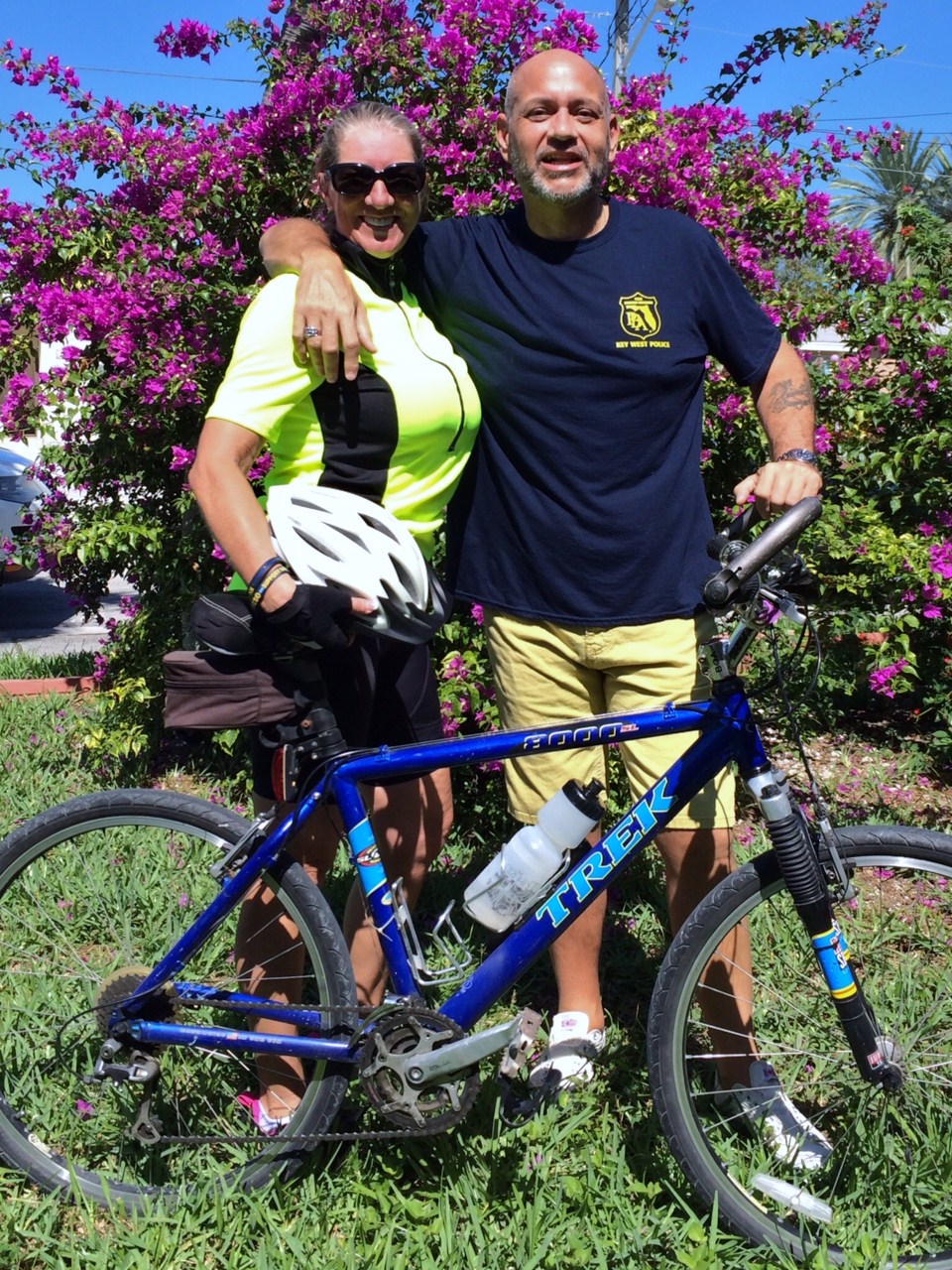 This letter of commendation was published on the city website:
I HAD MY STORE BROKE INTO A COUPLE DAYS AGO- OFFICER ERIC BISKUP CAUGHT THE THIEF THAT GOT TO THE REGISTER ALREADY AND STOLE SOME MONEY ARRESTED HIM AND WAS IN CONTROL ON THE WHOLE SCENE BY HIMSELF, HE WAS VERY PROFESSIONAL AND ALSO VERY KIND AT THE SAME TIME TOOK HIM IN THE COP CAR AND PREVENTED OTHER BURGLARIES THE SAME NIGHT BECAUSE HE HAD A BAG FILLED WITH TOOLS PLANNING TO HAVE A LONG NIGHT.
ANY WAY I WANT TO THANK HIM FROM MY BOTTOM OF MY HEART AND MENTION THAT IS VERY GOOD TO HAVE SUCH COPS IN THE FORCE.
To me Eric embodied the qualities that all of us hope to see in a community based officer. He had an interest in his town and as the reporter discovered, a desire to solve conflict without resorting to hand cuffs. Unhappily we live in a litigious and frequently violent society and the police are caught in the middle of a struggle to maintain order and civil liberties in a country where allegiance to either seems to vacillate day to day and depending on the political mood.
Eric was a cop and through his illness he referred to himself in the present tense as a cop but he was also a human being. He rode a Harley and he had a tortured relationship with an old Volksswagen Bug which he showed off at the Southernmost Car Club when I passed by in 2010:
He was a presence around town and in a lot of lives, and he enjoyed the perks of living in a small town and being appreciated. I was glad to help him figure out how to see London one year and he sat up in dispatch with me as I went over things to see and places to go and on that trip he made a connection with the Met, the London Police, which spread his net wider in the international bond between cops. And I dare say enriched his life as they compared notes on how it's done.
Reeves Cooper's article had a nice few touches to it so rather than me trying to say why Eric was, in the words of former Captain Scott Smith "the coolest cat I know," let his erstwhile nemesis in print tell the whole story of what it was like to work with the coolest cop on the beat:

For the past several weeks, I have been participating
in the Key West Police Department's (KWPD)
Citizen Police Academy. No, I'm not making this up.
In essence, this is an enhanced orientation program—
eight two-hour evening sessions with presentations
by representatives from the various departments
within the KWPD.
This past week, we saw a taser demonstration
and we got to see one of the department's two police
dogs in action. Next week, we are scheduled to tour
the jail and, the week after that, we are scheduled to
meet the police horses.
This is not a VIP program. Classes are scheduled
a couple of times a year and anybody can sign
up to attend. Officer Steve Torrence coordinates the
program. He said this week that the dates for the next
academy have not been set yet, but if you want to get
information or express interest in attending, his phone
number is 809-1007. His email address is storrenc@
keywestcity.com
.
Those who participate in this program also
have the opportunity to schedule a ride-along with
a cop. We were encouraged to do this at night. "It's
a completely different world out there in the middle
of the night," we were told.
When I signed up for my ride-along, I told them
that I wanted to ride with an experienced officer. Well,
you know what they say— be careful what you wish
for, you just might get it. When Officer Eric Biskup
found out that I was on the ride-along list, I'm told
that he called Steve Torrence and asked that I be assigned
to him.
If you're a longtime reader of Key West The
Newspaper, you may recall that Biskup has been
"featured" here at least a couple of times. Back in July
2001, a family visiting from Sarasota were strolling
down Duval Street after dinner. A drunk standing in front of one of the bars said something off-color to
one of the women in the group. That confrontation
escalated into a full-blown street brawl.
Biskup was one of six cops who responded to
the scene. In the process of breaking up the fight,
Biskup was accused of beating up one of the family
members— who later sued the city and was awarded
$50,000.
Biskup was also the cop that arrested restaurateur
Bob Mongelli a couple of months ago after Mongelli
called the cops to deal with situation at a rental appartment
he owned. That court case is pending.
Well, I did go on a ride-along with Officer Biskup
and, since you are reading my report here, it is obvious
that he did not "disappear" me.
Last Saturday, I met with Biskup at the police
station for the 6 p.m. briefing. And for the next 11
hours, we were almost always busy responding to
911 calls. Right up front, he told me, "When you ride
with me, you're out of the car when I'm out of the
car— unless somebody starts shooting at us. But I
do have an extra Kevlar vest in the trunk of the car if
you need it," he added.
Biskup, 43, has been a cop for 16 years, most
of that time in Key West— although he started out
with a small department upstate. He also served a
short stint with the new Orleans Police Department
and was a deputy sheriff in Washington state. He is
originally from Chicago.
He is a street cop— and at 5'10," 235 pounds,
with a shaved head, he looks the part.
Again, if you are a regular reader of KWTN,
you know that we have often editorially asked this
question: "We live in a small town. Why do we have
some police officers who seem to want to arrest everybody?
Except for obvious exceptions, why can't
our cops approach most situations with the attitude
of trying NOT to arrest people?
Well, imagine my surprise when, as I watched Officer Biskup work, I heard
him saying to people more
than once, something like this:
"Okay, ladies and gentlemen,
how can we solve this problem
without anybody going
to jail?!"
Granted, in some of the
situations during the course of
the night, he had to sometimes
say that louder than at other
times or, maybe, even repeat
it. But at the end of the night,
he had not made even a single
arrest!
Of course, I had to wonder
if he was just putting on a
show because I was with him.
But, since then, I have had an
opportunity to ask other cops,
including the chief of police,
about Biskup's style. They told
me that is the way he enforces
the law.
"Seasoned officers understand
that arrest is not always
necessary or prudent for
many reasons, including officer
safety," said Chief of Police
Donie Lee. "That is certainly
my philosophy."
Biskup's beat last Saturday
night was Duval Street and
the surrounding area. Early
in the evening, we took a ride
down Duval. It appeared that
most of the people on the street
were out for dinner. Everybody
seemed happy. I didn't see any
falling-down drunks.
But that was to change
over the next few hours, after
what Officer Biskup called the
"shift change," referring to
the people on the street. Even
that early, however, Biskup
responded to a call that an
intoxicated woman had fallen
and busted her head open near
Mallory Square. We found
her sitting stoically on some
steps on Front Street, smoking
a cigarette, blood streaming
down her face. Biscup called
the paramedics, who treated
her injury and took her to the
hospital.
Later that night, Biskup
was called back to the same
area where a elderly homeless
man was reportedly having a
seizure. Biskup told me that the
old man was the "husband" of
the woman with the bleeding
face.
Later, on a routine walking
patrol of the same area,
Biskup rousted a homeless man
sleeping on the porch of the
Waterfront Playhouse. He had
gone to sleep with his trousers
down around his knees.
Earlier in the evening,
a call came in to check out a
domestic dispute at an apartment
on Whitehead Street.
A man was trying to kick his
partner out of the apartment
and the partner was refusing
to go. I noticed that after Officer
Biskup knocked on the
door, he stepped to the side. He
explained that, years ago, on a
routine call like this, somebody
inside responded to his knock
by firing a bullet through the
door.
During the call Saturday
night, the man's partner did
agree to leave after Officer
Biskup explained the jail option
to him. Back in the car, Biskup
predicted that we would be
called back to the same address
again later in the evening. He
was right.
Still early in the evening,
Biskup responded to a
complaint from a Duval Street
store manager that a group of
rowdies were playing grabass
in front of his store, blocking the
way for customers who might
want to come in. When Biskup
confronted them, he initially
got some attitude from a couple
of the guys— until he explained
the jail option to them.
Biskup was right about
the "shift change." Duval Street
is a whole new place in the wee
hours of the morning. During
this period, there were several
calls about people passed out
on the sidewalk.
About 3:30 a.m., we got
out of the car and Biskup
stationed himself, along with
some other officers on Duval
Street near Green. I asked about
what was going on because, if
anything, Duval seemed almost
deserted, compared to just an
hour or so earlier.
"Just wait a few minutes,"
he said.
Suddenly, Duval was
again jam-packed with people,
many of whom seemed to be
having some trouble walking.
It was 4 a.m.— and the bars
were closing.
Dennis Cooper
God speed Eric and may flights of angels sing thee to they well earned rest.