I don't know what is going on but the newspaper has had stuff to report lately. Just yesterday a small plane with two adults and child on board had engine failure shortly after take off and according to the news the pilot tried to ditch in the ocean near Key West airport. He failed and somehow landed on a tiny street near the airport almost blowing up the car rental fuel pumps. Amazingly enough the plane landed upright, stopped a few feet short of incineration and everyone walked away from this:
Two military flyers weren't so lucky earlier in the week when the fliers ejected as they tried to land at Boca Chica Naval Base on a training flight. They died at the hospital. It's hard to imagine what could have gone wrong with those sleek fast darts in the sky. I watch them circling while I travel on Highway One approaching Key West and I always feel glad to be firmly on the ground. Yet I never think of them actually failing and killing their young strapping occupants. Death in combat maybe, death in training...how is that possible? According to CNN the witness who took this picture of the recovery saw the plane explode. I can't imagine what that felt like.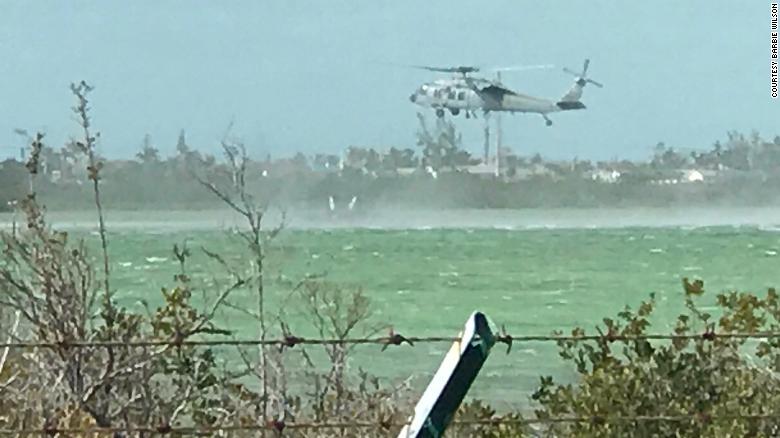 Then there was the fire at Rockland Key, Mile Marker 9. It was a home being rebuilt after Hurricane Irma damaged it. The fire was complete and spectacular and the home was destroyed, helped aong by the strong winds we've been having all week.
We got lots of calls where I work for the Key West police but it was a Monroe County fire and they were on scene. It was apparently quite the blaze and there were lots of 911 calls. Then on my way into work yesterday I came across a vehicle crash, and not your average Spring Break madness either. I was the only caller according to my colleagues at Monroe County dispatch. I drove past a steaming white van nose first in the mangroves, the driver slumped over the wheel. After I called I walked over and the driver came out. She was all bundled up against the cold and told me she had fallen asleep. She was not wealthy looking as you might imagine. I figured she was another of those who work two or three jobs to survive in these absurd islands. I left when the deputy arrived. And I took no pictures. Great photographer I am!
And then in Miami yesterday a new footbridge designed to get university students safely across SW 8th Street (Calle Ocho) collapsed suddenly and crushed five cars and some pedestrians. They were saying up to a dozen people may have died.
I have no idea what to make of it all. I am alive and well and feeling lucky. It's been cold enough all week I've driven the car to work. That and all the bizarre distracted driving I'm seeing around Spring Break. This weekend I'm off to the mainland to get away from it all. Another whole weekend off! I can hardly believe it after all the overtime I've had to do. Lovely.